Description
Premium desktop audio interface.
A cutting edge interface for the modern producer, combining 4 exceptionally detailed preamps, perfect conversion, a total monitor solution, and even Bluetooth audio. Whatever creative challenge you face, AudioFuse Studio will help you master it
Discrete Pro mic pres with +71dB of gain
Ever try to drive a low-output dynamic mic or, heaven forbid, a ribbon mic with your current audio interface? By the time you boost the signal up to a suitable level, the track is just screaming with additional noise. Not so with the AudioFuse Studio's Discrete Pro microphone preamps. Their impressive +71dB gain range equips you for the quietest sources and most intimate performances — condensers to ribbons — with virtually no added noise, even at max level.
Your new home and mobile front end
Whether you're mixing songs at home or tracking on the road, the AudioFuse Studio has you covered for any challenges you're likely to encounter. Connect two 8-channel mic preamps, and you're ready to track full bands live. Pop it in a backpack, and you can take advantage of the Discrete Pro mic pres to capture wind symphonies in concert and dialog on location. There are even pre-conversion inserts and line inputs for outboard gear. It's all delivered in HDR 192kHz conversion straight to your laptop over rock-solid USB-C.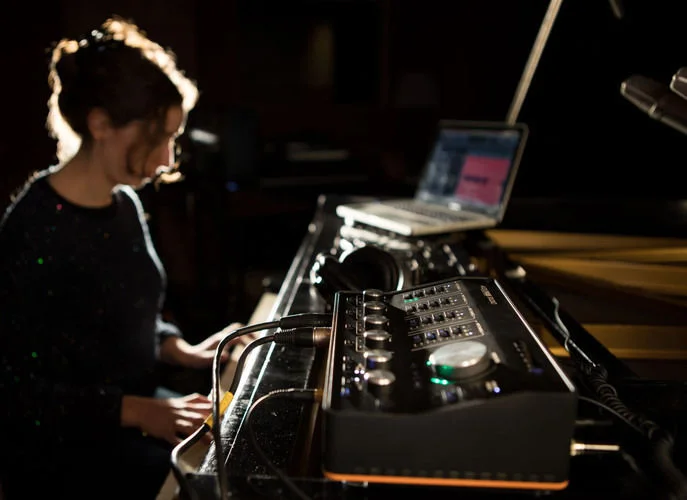 Includes the AudioFuse Creative Suite
Adding serious value to the AudioFuse Studio is Arturia's included AudioFuse Creative Suite. For the last 20 years, Arturia has been creating impressive software emulations that are used by producers around the world. The 3 Preamps bundle is your ticket to component-correct vintage analog coloration and sweetening on any recorded source — beefy bass drums to sparkling acoustic guitars and perfectly present vocals. An intro version of the Arturia's Analog Lab nets you a comprehensive collection of sought-after synth sounds, made all the sweeter by the Mini Filter's Moog-ish ladder filtering and step sequencing. You also get sweet digitization of a prized analog delay and a vibey 76-type compressor to make drums and bass come alive. Also onboard are a trio of vintage modulation effects.
Arturia AudioFuse Studio USB-C Audio Interface Features:
Robust 18-in/20-out USB-C desktop audio interface
4 Discrete Pro mic preamps with +71dB of gain
Latest generation 24-bit AD/DA converters at up to 192kHz sampling rate
Audio-grade onboard Bluetooth audio receiver
Expandable — get 8 channels of I/O over ADAT optical (up to 96kHz)
Inserts and line-ins interface with your analog gear
Premium analog and digital signal path
Class-leading conversion and clocking
129dBu signal-to-noise ratio — among the best in its class
119dB of dynamic range — accurately captures heavy-hitting rock bands to delicate symphonic music without added noise
Includes Arturia's AudioFuse Creative Suite software pack
Fully USB 2.0 compatible